Other exciting news from Independence is the thought and planning of possibly 4 outdoor courts for the spring opening of the newly anticipated fencing renovation at the outdoor tennis courts. Still in the planning stage. The talk is moving forward and it sure will be exciting to the city and surrounding communities too. No fee's to play outside.
Stay tuned for any announcements of time, place and other great stuff.
With that being said.. the City is requiring a waiver to be signed for participation on and in the City Facilities.. Legal stuff to protect all involved. Basic info like emergency contact and waiver of responsibility. That handout is attached.. Please download, sign and bring it with you when you first come to save you some time. It will be kept on file for your safety and convenience.
Monday nights are still in place at the tennis courts as the weather holds above 50*. Inclement weather will put us indoors at the CIVIC CENTER. There are two courts available and a non resident fee of $4.00 per night.
MORE Winter play in Independence will begin on Nov 6 at the Elmwood Rec center. Please sign the waiver and bring it when you come the first time of play
-See HANDOUTS on the link below
Starting Thursday Morning, November 6 from 8-10am play will be at Elmwood Rec Center and ...
Starting Tuesday evenings, November 11, 6-8pm play .
See the calendar tab for more information. Below is a map of how to get to Elmwood Rec. It is a stand alone building with parking in the back.. Be sure to wear court shoes to keep out the dirt.
There are small men's and women's locker rooms to change in as well as showers if needed.
The city is requiring a WAIVER which is attached to play in the facility. It is for emergency contact and the usually waiver information..
Please download, fill it out and bring it to your first play date.
It's important to have this information on file with me to secure your safety as well as information in case of an emergency. Hopefully never needed.
Info about the MAP below.. Elmwood Rec center is next to the pond on Pete Wisnewski Drive first Right off of Selig Dr and the Civic center is located at the Independence Recreation Dept (heading) off of Kathy Lynn Drive. Go to the stop sign past the tennis courts Turn Right and then Left into the parking lot. They are both in the same complex just different road access.
CLick on the below image for internet map or the VIEW larger image link to the map for a detailed look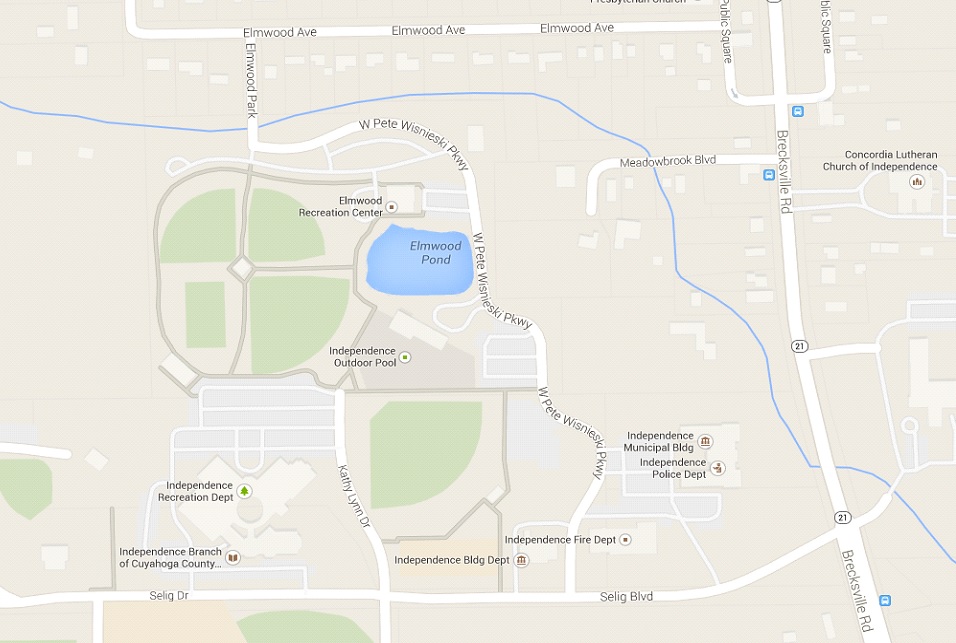 We will have 3 courts system. All are welcome to play on any court each night at any time.
But to make it a little more interesting and competitive for those who are looking for similar levels of play.
Court 1 and 2 will be highly cometitive with a playing level of 3.0 -5.0 with rotation of players to these courts as you finish a game.
Court3 will be beginner to 2.5 level players and/or a practice skill work court depending on attendence
This is just to keep things level for all. AGAIN.. You can play on any court anytime, just know that the playing level will vary each night.
This will also depend on the number of participants each session
Playing higher level players will be more challenging and will improve your play.....
For RATING information: click the site link above
There are two courts at the Civic Center for play.. This is a social night and all play will rotate as a court finishes a game. Mix and match your play and skill level with everyone that attends.
Monday's at this time is $4.00 Non resident playing fee. Please don't let that stop you from coming.
The Director at Independence Civic Center is leading the way in the addition to the tennis court facilities. They are planning to paint and turn the unused end tennis court into a 4 court pickleball area.
What an exciting adventure.. Thanks to Tom and the city for assisting the dedicated group of players and introducing it to the community.
This pickleball area will be open to the public for play.. Bring your own net at this point.. No permenent standards are planned at this time.. BUT that's alright with us..
Having officially lined and "painted" courts are a BONUS!.
Can't thank Tom the city enough for it's support.